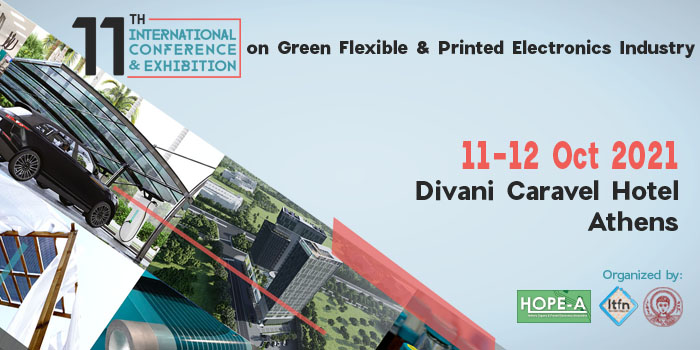 The 11th International Conference & Exhibition on Green Flexible & Printed Electronics Industry will take place on 11-12 October 2021 at the Divani Caravel Hotel Athens, Greece.
The International Conference is organized by the Hellenic Organic & Printed Electronics Association HOPE-A (www.hope-a.com) and the Nanotechnology Lab LTFN (www.ltfn.gr).
This International Conference will bring together Key Industrial Players, End-Users, Entrepreneurs, Investors, Top-class Scientists, Engineers, Policy Makers, Politicians and Representatives from the National, European and International Authorities to discuss, networking, make business and establish the Strategy and Policy for boosting the rapidly evolving Green Flexible & Printed Electronics hundred-Billion euros Industry in Green Energy, Renewable Technologies, Fuel Cells, Green Hydrogen, Energy Autonomous Systems, Lighting, Electronics and Communications, Automotive, Electrical Vehicle, Buildings, Smart Cities, Agriculture, Intelligent Packaging and Security, Health Care, Wearables, IoT, etc. contributing to a Green, Digital, Decarbonized and Circular Economy Society and Planet.
The topics to be discussed include:
Flexible Organic & Printed Electronics and Photonics
Green & Renewable Energy
3rd Generation Photovoltaics
Bioenergy, Fuel Cells & Green Hydrogen Generation
Energy Storage and Batteries
Flexible Lighting and Displays
Energy and Lighting for Smart Buildings, Smart Cities, Automotive, Greenhouses, Healthcare, IoT
Energy Autonomous systems in Consumer Electronics, Smart Packaging, Tourism, Defence, etc.
Energy Production and Energy Autonomy in Agriculture and Food Production
3D Printing Electronics in System Integration of Functional Products and Solutions
Advanced materials, Semiconductors, Electrodes, High Barrier Materials, Inks and Bioinks
Sensors, Biosensors in Wearables, IoT, Health, Agriculture, etc.
Manufacturing, Nano-Manufacturing and Processes of FPEs, BioElectronics, etc
Smart Textiles, Fashion and Wearables
Intelligent and Smart Packaging, Safety and Security
Machines, Tools, Lasers, Automation Systems, Robotics, Analytics and AI for Zero-Defect Manufacturing
Machines and Tools for Digital Transformation of the Industry
FPEs in Green Deal and Decarbonization Global Activities and Policies
Clusters and Associations in Flexible & Printed Electronics Worldwide
Flexible & Printed Electronics Entrepreneurial activities
Markets, Funding & Commercialization Opportunities